When carrying out Dynamic Simulation Thermal Modelling of buildings we often do so using current CIBSE weather data.
TRY (Test Reference Year) weather data simulates a typical years' worth of weather and is used when performing Part L2 Assessments, Non-Domestic Energy Performance Certificates and in calculating annual heating and cooling loads.
DSY (Design Summer Year) weather data simulates a typical hot year and is used when carrying overheating assessments such as BB 101 2018, TM52 and TM59.
While both weather data sets provide a detailed representation of the climate today, they do not accurately predict how the weather may change in the near and distant future due to climate change.
In other words, the cooling load installed within your building may be able to keep it at a comfortable temperature today but in 10 or 20 years' time it may no longer be able to cope.
This is where the use of future weather data within our dynamic simulation thermal models is beneficial as it allows us to analyse how your building is likely to perform 10, 20 or even 50 years into the future.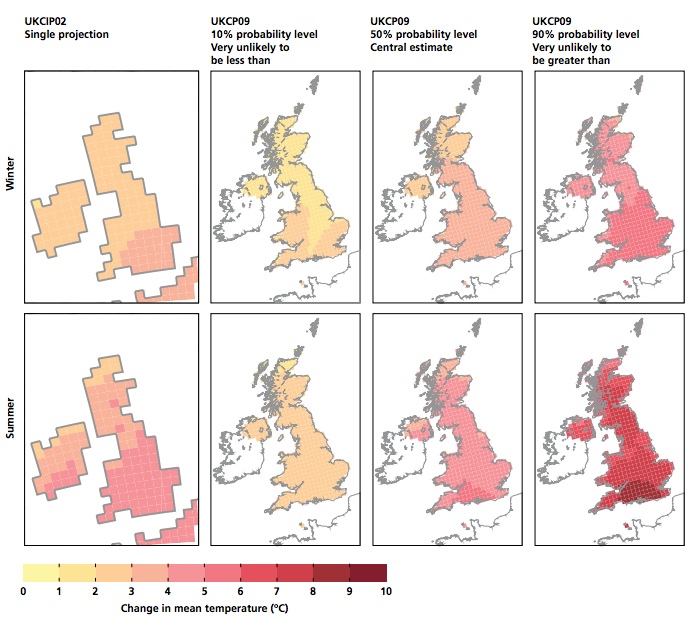 Using the CIBSE Future Weather Data sets we can simulate the performance of your buildings over three future time periods, the 2020s, 2050s and 2080s. The three time periods also have a range of different emission scenarios that can be simulated as shown below:
2020s – High emissions scenario – 10th, 50th, 90th percentile
2050s – Medium – 10th, 50th, 90th
2050s – High – 10th, 50th, 90th
2080s – Low, 10th, 50th, 90th
2080s – Medium – 10th, 50th, 90th
2080s – High – 10th, 50th, 90th
As well as different emissions scenarios, buildings can also be simulated using different Design Summer Years (DSYs).
DSY1: Moderately Warm Summer
DSY2: Short, Intense Warm Spell
DSY3: Long, Less Intense Warm Spell
The DSY1 is used when carrying out overheating assessments such as BB 101 2018 and TM52. The others DSY2 and DSY3 can be used to provide a greater understanding of how your building would react during different types of summers.
BREEAM Hea 04 Thermal Comfort
Under BREEAM New Construction 2018 Hea 04 Thermal Comfort, one credit is available if you carry out a dynamic simulation thermal model and demonstrate that the building is not overheating.
An additional credit can also be gained if the building is designed for future thermal comfort by carrying out projected climate change modelling.
How we can Help
At Elmstead Energy Assessments and Building Services we can create a Dynamic Simulation Thermal Model of your building and run the calculations required to demonstrate that it will not overheat, both in today's climate and in the near or distant future. Therefore achieving the BREEAM points available under Hea 04.
Message Us
Using the Contact Form