What is the London Plan
The London Plan is the statutory spatial development strategy for the Greater London area in the United Kingdom that is written by the Mayor of London and published by the Greater London Authority, the latest version was released in March 2016, with the most recent update on London Plan Energy Assessment Guidance being released in October 2018.
Although the London Plan gives a wide range of guidance on a number of subjects such as the places, people and economy of London; what is of the most importance to Energy Assessors like us and Building Developers seeking planning approval is chapter 5 'London's Response to Climate Change'.
Policy 5.2 of the London Plan seeks to minimise the amount of carbon dioxide emissions from Major Developments. To do this Major Developments must submit a detailed London Plan Energy Assessment as part of their Planning Application.
Major Developments are defined as either:
Dwellings: where 10 or more are to be constructed (or if the number is not given, area is more than 0.5 hectares).
For all other uses: where the floor area is 1,000 metres squared or more (or the site area is 1 hectare or more).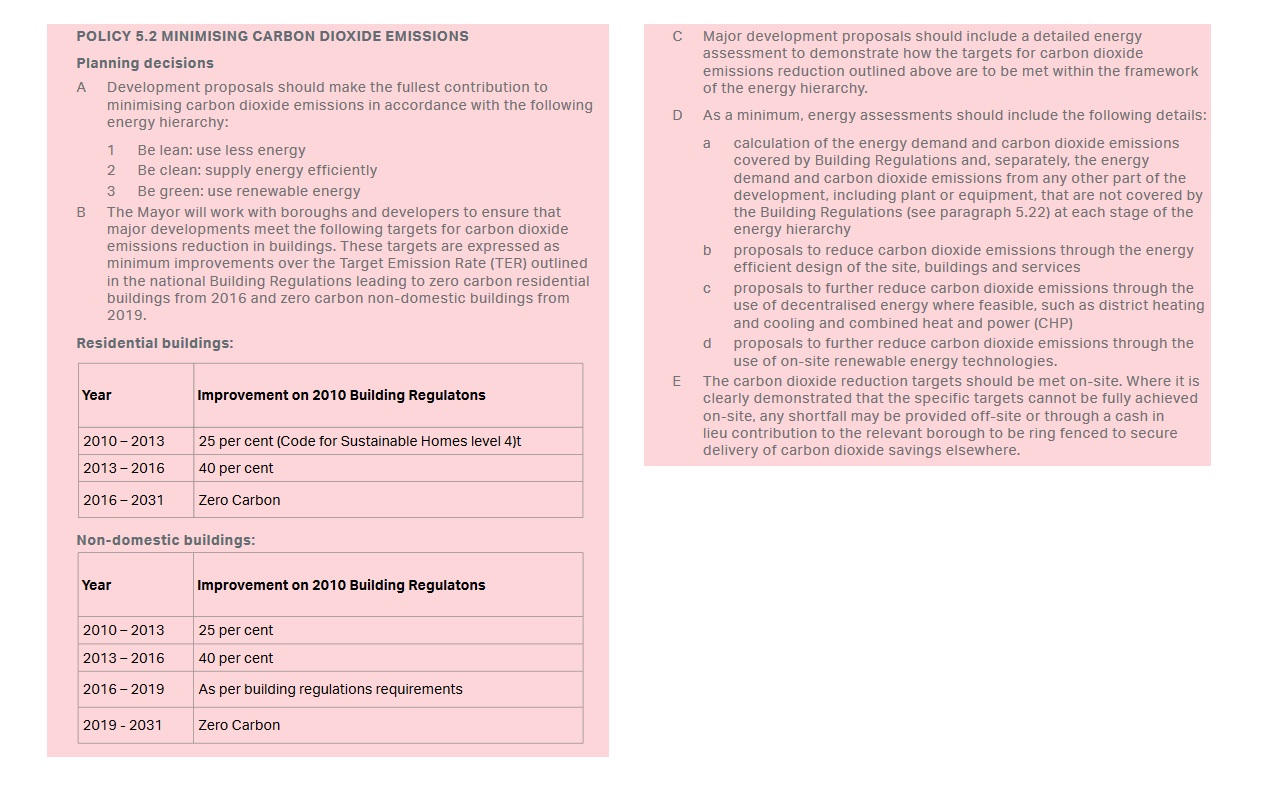 London Plan Energy Hierarchy
The developments Energy Assessment must show how it will aim to minimise its carbon dioxide emissions in accordance with the 'Be Lean, Be Clean, Be Green' Energy Hierarchy.
Be Lean
The Be Lean stage asks for a buildings energy demand to be reduced through passive and active design measures. Passive design measures can include optimum site orientation, solar shading, improved U-Values and good use of natural lighting.
Active design measures can include highly efficient lighting, mechanical ventilation with heat recovery and highly efficient gas boilers.
All applications are expected to exceed the Building Regulations Part L 2013 target emission rate (TER) through energy efficient Be Lean measures alone.
The new draft of the London Plan (expected in 2019) is also likely to set stricter efficiency targets with:
Domestic developments required to achieve at least 10% improvement over Building Regulations from energy efficiency (Be Lean).
Non-Domestic Developments required to achieve at least 15% improvement over Building Regulations from energy efficiency.
Be Clean
The Be Clean stage looks at the heating infrastructure provided to the development and asks that any energy supplied should be efficient as possible.
This can be by utilising a connection to an existing area wide heat network, communal heating systems such as communal boilers or CHPs, or efficient individual heating systems.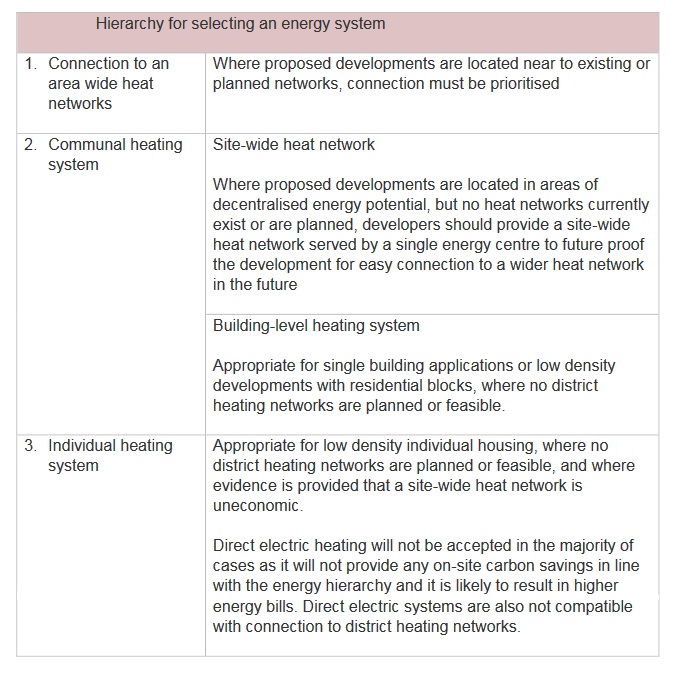 Be Green
The Be Green stage is for the generation of renewable energy through technologies such as photovoltaic panels, biomass or wind turbines. Heat Pumps, such as air or ground source, are also categorised as a renewable technology within London Plan Energy Assessments.
There is also a presumption that all major development proposals should seek to reduce their carbon emissions by at least 20% through the use of on-site renewable technologies where feasible.
Carbon Offsetting
If the on-site CO2 reduction targets have been demonstrated to show that they cannot feasibly be met, then the remaining shortfall to 35% can be offset either through helping to fund renewable schemes offsite, such as photovoltaic panels on a local school, or through a cash in lieu payment.
For domestic schemes once the 35% onsite carbon reduction is achieved by following the energy hierarchy, the remaining emissions down to zero carbon must be offset via the cash in lieu contribution.
Each London Borough is free to set their own price per tonne of CO2, however where a price is not set a figure of £60/tonne for a period of 30 years (effectively making the cost to offset Carbon £1,800/tonne) should be applied.

The carbon dioxide emissions for each stage of the energy hierarchy must be calculated individually to show the improvements each stage of the hierarchy will have. For mixed use developments the domestic and non-domestic emissions should also be calculated separately.
The buildings overall calculated carbon emissions have to be a 40% improvement over the 2010 Building Regulations Notional Building (this equates to a 35% improvement over the 2013 Building Regulations Notional Building).
Overheating and Cooling
As well as determining the carbon emissions, proposed developments should also aim to avoid overheating and reduce the demand for cooling in line with the London Plan Policy 5.9.
Development proposals should demonstrate how the demand for cooling is reduced or removed entirely by following the Cooling Hierarchy.
Minimise internal heat generation through energy efficient design.
Reduce the amount of heat entering a building in summer through orientation, shading, albedo, fenestration, insulation and green roofs and walls.
Manage the heat within the building through exposed internal thermal mass and high ceilings.
Passive ventilation.
Mechanical ventilation.
Active cooling systems (ensuring they are the lowest carbon options).
To prove that the design of the development has removed the requirement for cooling by following the Cooling Hierarchy, London Plan Energy Assessments must also include Dynamic Overheating Modelling following the guidance within CIBSE TM49, TM52 and TM59.
Domestic Schemes need to satisfy the TM59 overheating requirements using the CIBSE TM49 Design Summer Years London weather data, and non-domestic schemes should satisfy the CIBSE TM52 overheating requirements also using the TM49 weather data.
You can find out more about the types of overheating simulations we can run using Dynamic Simulation Modelling here.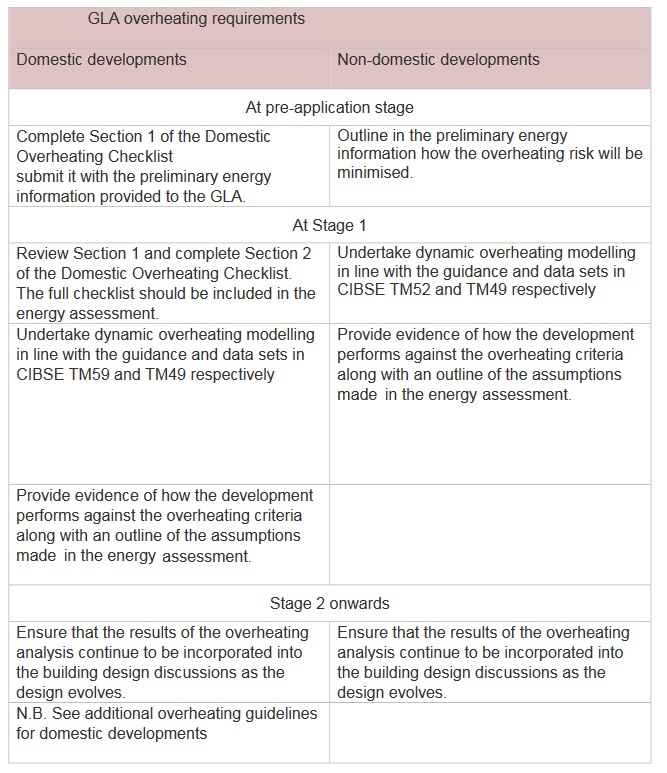 Where London Plan Energy Assessments are Required
You will require a detailed London Plan Energy Assessment if your major development falls within one of the 33 London Boroughs.
| | | |
| --- | --- | --- |
| Barking and Dagenham | Barnet | Bexley |
| Brent | Bromley | Camden |
| City of London | Croydon | Ealing |
| Enfield | Greenwich | Hackney |
| Hammersmith and Fulham | Haringey | Harrow |
| Havering | Hillingdon | Hounslow |
| Islington | Kensington and Chelsea | Kingston upon Thames |
| Lambeth | Lewisham | Merton |
| Newham | Redbridge | Richmond upon Thames |
| Southwark | Sutton | Tower Hamlets |
| Waltham Forest | Wandsworth | Westminster |
How we can Help
At Elmstead Energy Assessments and Building Services we can run all the Carbon Emission calculations required for your developments London Plan Energy Assessment.
Working alongside the design team we can guide the proposed development through the Energy Hierarchy to ensure that a 35% reduction in CO2 emissions over Building Regulations is achieved and that the Overheating simulations are compliant.
Message Us
Using the Contact Form