To ensure that any proposed new dwellings will use water efficiently, Part G2 of the Building Regulations states that their projected water consumption must not exceed 125 litres per person per day.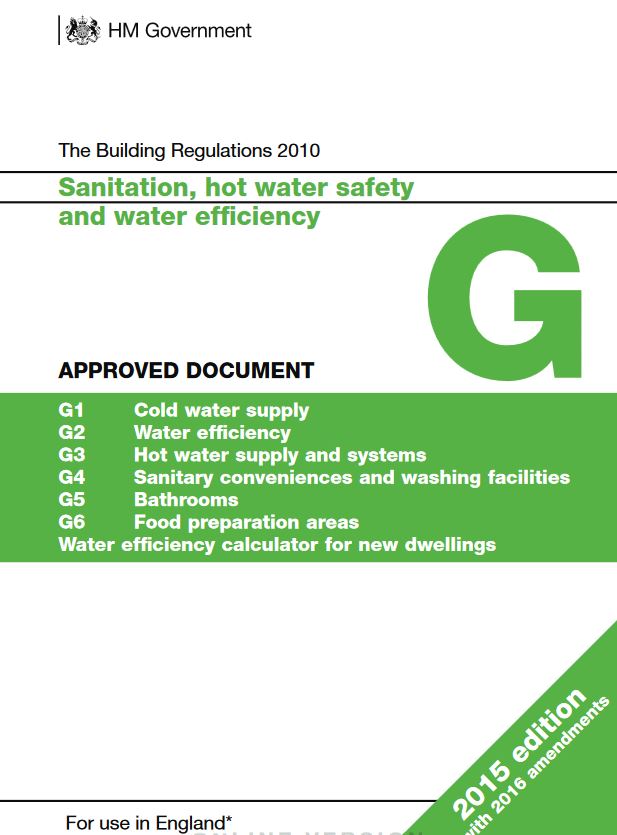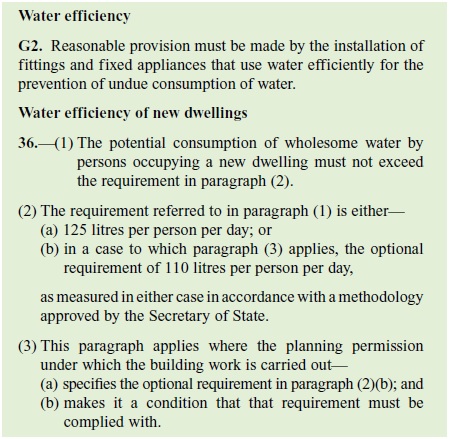 However, individual Local Authorities will often set a lower target than this as part of their planning conditions, such as 110 litres per person per day, or even as low as 80 litres per person per day which is equivalent to Levels 5-6 of the now discontinued Code for Sustainable Homes.
Often the water efficiency calculations will form part of an Energy Statement submitted for Planning to show that water efficiency has been considered, as well as energy usage and overall carbon emissions. This helps to ensure that planning permission is granted first time and avoids any unnecessary delays.
In order to demonstrate compliance with Regulation 36 (sometimes referred to as 17K) of Part G2 Building Regulations we can carry out the water efficiency calculations for you in accordance with the Part G Methodology and the Department of Communities and Local Government Water Efficiency Guide.
A simple to understand report of our calculations clearly showing the final water consumption figures will be produced, this can then be delivered to your Building Control Officer for sign off.
What can Affect a Dwellings Water Usage?
Please see below a list of installations and their factors that can affect the water consumption of your dwelling.
The Flushing Capacity of Toilets / WCs (single or dual flush)
The Flow Rate of Taps (Bathroom and Kitchen / Utility Areas)
The Capacity to Overflow of Baths
The Flow Rate of Showers
The Litres per kg of Dry Load for Washing Machines
The Litres per Place Setting of Dishwashers
The use of Waste Disposal or Water Softeners.
If any Rain Water or Grey Water harvesting is installed and used on site this can also positively affect your overall total water consumption. An allowance for external water usage of 5 litres per person per day is also accounted for in the calculations.
How we can Help
At Elmstead Energy Assessments & Building Services we can carry out any Part G Water Efficiency Calculations you require. All we need from you as a copy of your proposed floor plans and an idea of the fittings you're intending to install.
If the calculations show that the water consumption is currently failing the consumption limit, we can offer advice on how to achieve a pass in the easiest most cost-effective way possible using our years of experience.
Message Us
Using the Contact Form