2021 Update to Part L Building Regulations – Volume 2 Buildings other than Dwellings
The 2021 edition of the Part L Building Regulations is due to take effect from 15th June 2022. Approved Document L covers the requirements for the conservation of fuel and power in both dwellings and buildings other than dwellings, this is split into two separate volumes and we have linked to the official versions of the Updated Approved Documents on the Government website below:
Part L (conservation of fuel and power) is being updated and improved to meet the Governments Future Homes and Future Buildings Standard. This means that through enhanced building design, energy efficient HVAC services, and renewable technologies, any new dwellings or non-domestic commercial buildings should be a nearly zero energy building and be zero carbon ready.
Part L Volume 2: Buildings other than Dwellings
This post is going to cover Part L Volume 2: Buildings other than Dwellings of the new Building Regulations, for guidance on Part L Volume 1: Dwellings you can find our write up by clicking here.
Key Changes Under the New 2021 Edition Part L Volume 2: Buildings other than Dwellings
Here we wanted to highlight some key differences between the current 2013 Part L2A Approved Document and the new 2021 edition Part L Volume 2 Approved Document.
Improved CO2 Emission Reduction Targets
Just like with the domestic Part L regulations, perhaps the most important change in the Part L Approved Document is the greater reduction in CO2 emissions required in buildings other than dwellings.
Under the new regulations new non-domestic commercial buildings will be required to produce approximately 27% lower CO2 emissions than under the current standards, this is only slightly less than the 30% reduction required for dwellings.
Target Primary Energy Rate
Just like with domestic dwellings, under the new Part L 2021 Building Regulations non-domestic buildings will also now be required to meet a Target Primary Energy Rate.
The Target Primary Energy Rate is the maximum primary energy use that will be allowed for in a dwelling or commercial building in a year in order to satisfy Part L, it is expressed as kWhPE/(m2.year).
Primary energy is energy either from renewable or non-renewable sources, that has not undergone any conversion process. In simple terms Primary Energy will also take into account upstream processes used to produce that energy, for example natural gas will also account for any energy used in its extraction and transportation to site.
Enhanced Fabric U-Values and Insulation
To produce buildings that emit around 27% less CO2, significant improvements in the construction fabric U-Values are required. The table below shows a comparison of the current Part L2A 2013 limiting U-Values and the new limiting U-Values required under Part L 2021 Volume 2: Buildings other than Dwellings.
Construction
Part L 2013 Limiting U-Values
(W/m2.K)
New Part L 2021 Limiting U-Values
(W/m2.K)
Roof (Flat)
0.25
0.18
Roof (Pitched)
0.25
0.16
Wall
0.35
0.26
Floor
0.25
0.18
Windows
2.20
1.60
Roof Lights
2.20
2.20
Doors
2.20
1.60
Vehicle Doors
1.50
1.30
It can be seen that there is a significant improvement required across the majority of construction elements, particularly for new roofs which now differentiates between flat and pitched.
It is also worth mentioning that these are only the limiting values which a construction should be no worse than, not what your proposed commercial building will be compared against in terms of energy and carbon efficiency.
Your proposed non-domestic building will be compared against a notional building with a set specification, the image below shows the U-Values used by the Notional Building under the Part L 2021 Regulations.
Two options are being considered for Side-Lit activities such as office spaces and it is expected that the values highlighted in yellow will be chosen by the government for the notional building.
So in order to achieve a pass on your Part L BRUKL Calculation your new building should really aim to achieve U-Values equal to or better than the notional U-Values below.

Air Permeability and Air Testing Requirements
As well as an improvement to the construction U-Values the air permeability of a non-domestic building under the latest Part L 2021 Building Regulations is also being enhanced.
Under the old Part L2A 2013 regulations a commercial building could avoid the need for an air test if it was less than 500m2 and an air permeability figure of 15 m3/(h.m2) at 50Pa was assumed, if greater than 500m2 then it was required to be tested and it needed to achieve a limiting value of no worse than 10 m3/(h.m2) at 50Pa.
Under the new regulations 2021 Part L guidance non-domestic buildings less than 500m2 can still avoid an air test if they assume the air permeability is 15 m3/(h.m2) at 50Pa, however going with this assumption would mean that it would be very difficult to get the building to pass the overall Primary Energy and Carbon Emission targets.
This is why we would recommend that all new non-domestic buildings carry out an air pressure test regardless of their size, and they will now need to achieve a value of at least 8 m3/(h.m2) at 50Pa. However, the value used by the notional building that you will be compared against can been seen in the table below and will be considerably less than 8 m3/(h.m2) at 50Pa.

Minimum HVAC Services Efficiencies
The new 2021 Part L Building Regulations Volume 2 also now specifies the minimum efficiencies that different building services need to achieve in both new and existing non-domestic buildings.
Natural Gas Boilers within new buildings will need to be at least 93% efficient if there output is below 2MW and at least 88% efficiency if above 2MW.

Domestic hot water heaters, whether gas, oil, or electric, will also need to meet a minimum energy efficiency.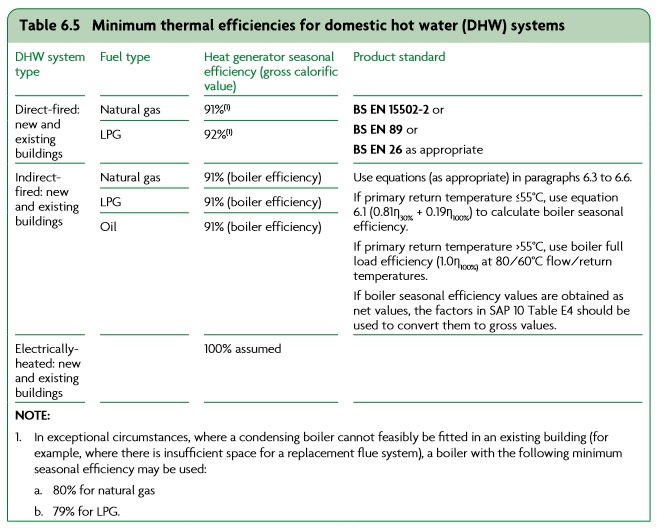 Comfort cooling minimum efficiencies have been significantly enhanced under the latest Part L 2021 regulations. Systems such as split or multi-split air conditioners and VRF systems now must achieve a minimum SEER of at least 5.0, this was only 2.6 under the older Part L Regulations.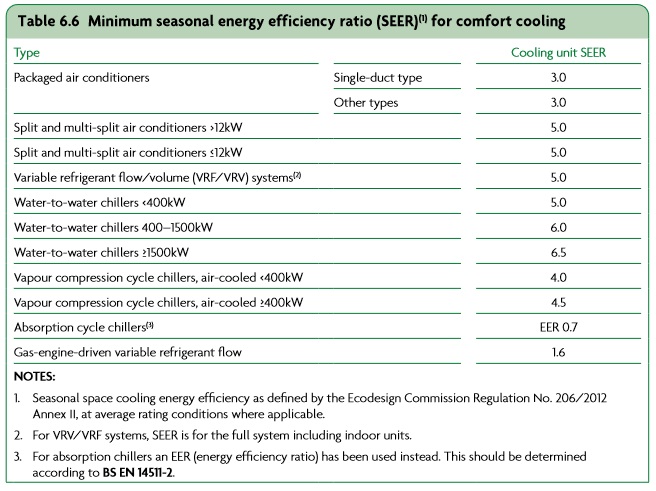 A buildings minimum Lighting efficiency requirement has also been considerably improved under the latest 2021 Part L regulations. Previously lighting could have a minimum efficacy of 60 Luminaire Lumens per circuit watt, this has now been increased to 95 Luminaire Lumens per circuit watt.
New Overheating Regulations
Overheating Assessments are now a requirement as set out by Part O of the Building Regulations. This requirement is mainly for domestic dwellings, however non-domestic buildings used for residential purposes such as care homes will also require an overheating assessment to be carried out.
Even if a building such as an office or school doesn't technically need an assessment carried out, if these rooms do not have comfort cooling we would recommend an overheating study be conducted to determine if sufficient solar shading and ventilation is provided to keep these rooms to sensible temperatures in the summer months.
Summary
These are the main changes we wanted to discuss between the old 2013 Part L Regulations and the latest 2021 version for non-domestic buildings.
With a 27% carbon reduction required over the old regulations this is the next stepping stone on the road to a Future Building Standard and Net Zero Carbon.
The new Part L Regulations take effect from 15th June 2022 so any development applying for planning permission after this time will be required to meet the latest guidance.
If you require a SBEM Calculation, BRUKL Document and Draft Commercial EPC under either the current 2013 Part L Approved Document or the new 2021 Part L Approved Document please contact us using our details below.
Message Us
Using the Contact Form