Acoustics Ventilation and Overheating Residential Design Guide 2020
Today we wanted to bring you a bit more information on the Acoustics Ventilation and Overheating Residential Design Guide 2020. Letting you know more about what it is, why it is important in the design and construction of new dwellings, and how we can help your developments to meet its requirements.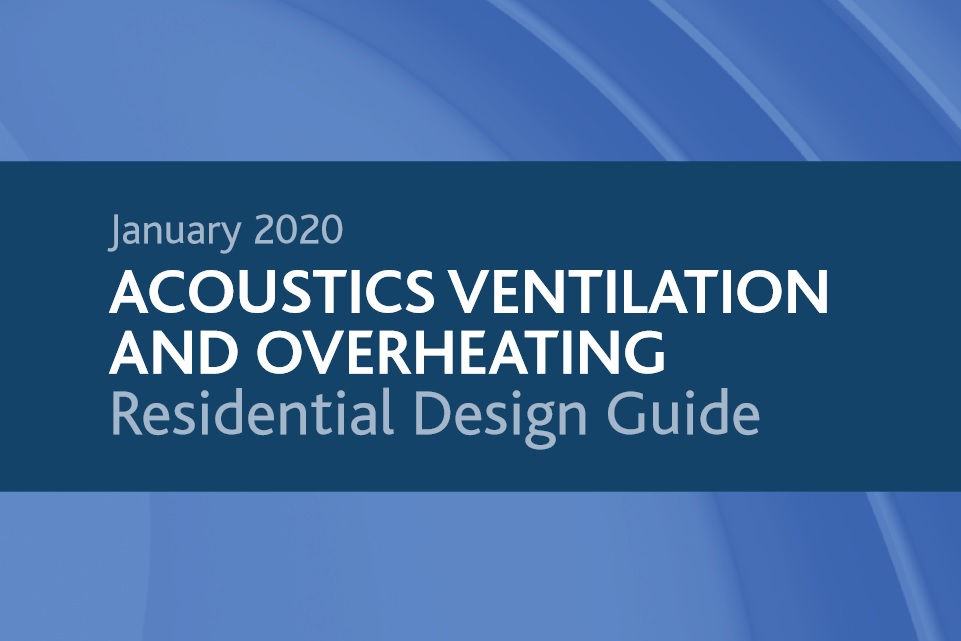 What is it?
The Acoustics Ventilation and Overheating Residential Design Guide 2020 is a joint publication by both the Association of Noise Consultants (ANC) and the Institute of Acoustics (IOA). Published in January 2020 the Acoustics Ventilation and Overheating guide provides up to date best practice guidance on the design of residential properties.
As you can probably tell by its name, the guide focuses on the acoustics, ventilation and overheating within dwellings. There is a lot of guidance regarding each of these subjects individually but it is recognised that these factors often influence each other heavily, for example opening windows in a dwelling may help to provide adequate ventilation and reduce overheating, but depending on where the property is located, it may also bring a lot of unwanted external noise inside the building. By releasing guidance that looks at all these aspects simultaneously, better dwellings fit for the future can be produced.
"The AVO Guide is essential to fill the gap left between other guidance in achieving comfortable, climate-resilient, sustainable dwellings."
Why is it important?
Although it does not constitute official government advice, The Acoustics Ventilation and Overheating guide is an important piece of guidance that developers should be aware of. This is because we are increasingly seeing it being referred to as a conditional planning requirement by Local Planning Authorities such as Worthing Borough Council, boroughs within London, and others around the UK.
The guide sets out a Two-Level Noise Assessment procedure to be carried out on new domestic developments. In areas of Low or Medium risk of high external ambient noise levels an in-depth Level 2 Assessment is optional, whereas in areas of High Risk a Level 2 Assessment is recommended.
As a part of the Noise assessment, the overheating properties of the development must be considered. This means that the acoustician will need to know the severity of any overheating occurring, for how long the overheating occurs for, what rooms it affects, and any mitigation methods employed to reduce the amount of overheating such as opening windows or switching on Air conditioning as these can produce unwanted noise into the dwelling which must be considered.
To determine the overheating conditions of a domestic property the Acoustics Ventilation and Overheating guide recommends that a CIBSE TM59 Overheating Assessment be carried out. We have discussed CIBSE TM59 Overheating Assessments in greater detail elsewhere on site here and here, so we will not go into further detail in this post but feel free to click the links to learn more.
How we can Help
At EEABS we can work alongside your appointed specialist acousticians to provide the detailed CIBSE TM59 Overheating Assessment they require to fully assess the potential noise implications of your proposed residential development.
As well as helping towards the Noise Assessment, a CIBSE TM59 Overheating Assessment is also a requirement for larger residential developments (10 or more units) within London under London Plan Policy 5.9. The overheating assessment carried out can form a part of your overall London Plan Energy Assessment and Sustainability Statement, meaning that the one assessment can be used to help inform both the acoustic performance and energy efficiency of your building.
Contact us today if a Local Planning Authority has asked for your potential development to comply with the requirements of the Acoustics Ventilation and Overheating Residential Design Guide 2020, or if you require any other daylight, energy and sustainability advice.
Message Us
Using the Contact Form